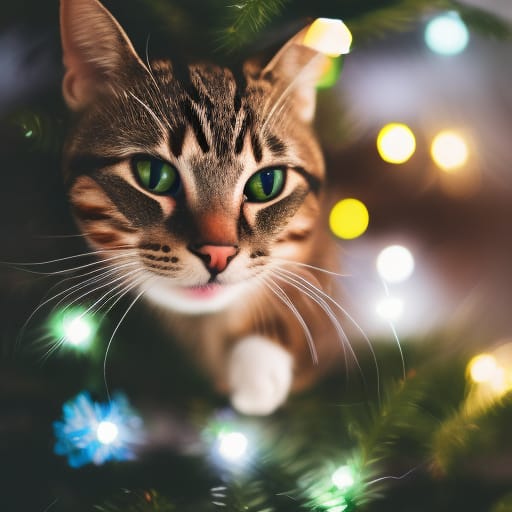 For many, the sparkling Christmas tree is the pinnacle of festive home décor. However, if you're a cat owner, this iconic decoration can quickly become a source of stress. Those shiny baubles look like toys, and the tree? A challenge to be conquered. But fear not! Dive into a feline festive wonderland this year with an alternative cat-friendly Christmas tree that keeps both the holiday spirit and your kitty in mind.
1. The Wall-Mounted Tree
Avoid floor space altogether by creating or purchasing a wall-mounted tree. Fashioned from felt or other sturdy materials, this tree is attached directly to the wall. Decorate with cat-safe ornaments, and you've got yourself a stylish, space-saving tree that your feline won't view as a new climbing challenge.
2. DIY Floating Shelves Tree
Another vertical approach involves arranging floating shelves in a tree pattern on your wall. Place festive decorations, some cat toys, and LED candles on each shelf. It's a modern, chic look that's 100% cat-approved.
3. The Minimalistic Wooden Tree
Consisting of wooden dowels or slats positioned in a tree shape, this design offers a rustic and contemporary charm. Given its openness, there's little for your kitty to bat down or get tangled in, making it a wonderfully cat-friendly alternative.
4. Hanging Tree From the Ceiling
Why not flip the script entirely? Dangle your tree (or a tree-shaped ornament array) from the ceiling. While it may be an unorthodox approach, it's a guaranteed method to keep it out of your cat's mischievous reach.
5. Cactus Christmas Tree
Cacti and succulents are trending in the home décor world. Swap out the traditional pine or spruce with a large, festively decorated indoor cactus. It's not only unique and stylish but also a choice most cats will steer clear from due to its prickly nature.
6. Cat Tree Turned Christmas Tree
Instead of trying to keep your cat away, why not bring the festive spirit to their domain? Decorate their cat tree with soft, plush ornaments and pet-safe lights. It will become the perfect alternative cat-friendly Christmas tree that your feline can enjoy up close.
Safety Tips:
When transitioning to cat-friendly alternatives, remember to:
Avoid tinsel, which can be a choking hazard.
Use shatterproof ornaments to prevent potential injuries.
Stay clear from toxic plants like poinsettias and mistletoe.
Always supervise when introducing a new item to ensure your pet's safety.
In conclusion, crafting an alternative cat-friendly Christmas tree doesn't mean sacrificing the warmth and magic of the season. With a touch of creativity and a dash of compromise, you can keep the festive spirit alive in a way that ensures both you and your feline have a purr-fectly merry holiday.